Opportunity for Advancement
Encouraged to grow and evolve in their roles, many of our employees are trained and promoted to higher-level positions throughout their careers at VRMNY.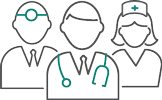 Career Possibilities
We offer extensive opportunities for both those with medical and non-medical experience.

Learning and Development
Education and mentoring from fellow colleagues empowers our employees to develop their careers and pursue their full potential.