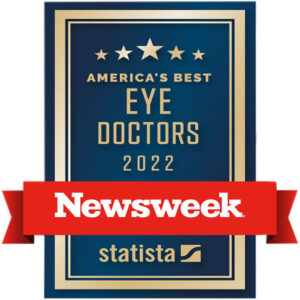 The group of ophthalmologists at Vitreous Retina Macula Consultants of New York are internationally known leaders in diagnosing and treating retinal diseases, known as the top New York experts and among the best-rated retina specialists in NYC. In our private practice, physicians prioritize high-quality, individualized eye care while utilizing cutting-edge diagnostic and therapeutic strategies.
Our community's retina doctors serve as academic leaders in the field as the most published group in major peer-reviewed journals in the U.S. They adhere to 'best practice' guidelines, serve as a quality benchmark, and are frequently regarded as the "best retina specialists" by their peers.
VRMNY doctors are proud to be on Newsweek's list of 350 best ophthalmologists and optometrists in the USA.
Our physicians are reviewers for the premier journals, including the Archives of Ophthalmology, Ophthalmology, Investigative Ophthalmology, and Visual Sciences, Retina, Eye, and Graefe's Archives of Clinical and Experimental Ophthalmology.
Some of the awards received by our doctors are: the Michelson Award for Retinal Vascular Disease, a Distinguished Alumnus Award by Boston University, the Alcon Research Award, the Herman Wacker Award of the Club Jules Gonin, the Arthur J. Bedelle Award, the Retinal Research Award and the Gass Medal of the Retina Society, the Bietti Medal, the Pisart Award from the Lighthouse International, and the Lifetime Achievement Award by the American Academy of Ophthalmology.