Stye Treatment
A stye is an infected lump that appears on your upper or lower eyelid. It may be painful or get large enough to interfere with your vision. While it's extremely rare for a stye to be cancerous, it is possible, which is another reason to seek stye removal from a top ophthalmologist. Consult an eye specialist at Vitreous Retina Macula Consultants of New York. After an exam, your ophthalmologist may need to perform a stye surgery to excise the lump on your eyelid. It's a quick, painless procedure. Call the top-rated professionals at VRMNY for stye treatment today.
What Is
a Stye in the Eye?
A stye is a painful, non-infectious lump or cyst that develops on the edge of your eyelid. At a glance, the eyelid inflammation may appear like a pimple or a boil. If the stye fills with pus, it becomes unsightly. While a stye can heal on its own, there are cases where one persists to the point that it affects your vision. Such cases require medical treatment, including stye surgery. Home remedies don't always work on styes.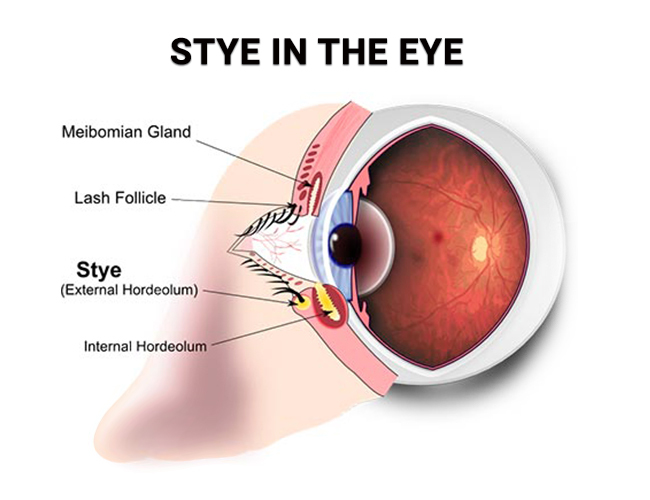 The lump forms because of the inflammation of a sebaceous gland in your eyelid. If untreated, the lump can become infected. Because of the pain, your eye may produce tears and become red. Other symptoms include a burning sensation in your eye, blurry vision, tenderness, itching and discomfort when you blink.
While most people try to use home remedies for stye treatment, professional stye removal is a safer alternative and a better way to protect your eye. The lump may make you self-conscious, forcing you to miss work or school. The ophthalmologists and retina specialists at the well-established eye practice of Vitreous Retina Macula Consultants of New York (VRMNY) have performed hundreds of in-office and surgical procedures to treat styes.
Why Do
I Need Stye Surgery?
Stye surgery is a minimally invasive procedure to scrape off the inflammatory material in a stye. By visiting an eye specialist, you get an accurate diagnosis and personalized stye treatment. An eye procedure is necessary if:
The stye doesn't get better after doing warm compresses for a week.
It causes overwhelming pain.
The stye disrupts your vision.
It develops into a serious infection known as superficial cellulitis.
It pushes on your eyeball awkwardly.
Your eyelid feels heavy because of the stye.
It causes your eye to tear excessively because of the irritation.
The stye affects your facial appearance, causing embarrassment or self-esteem issues.
While home remedies or over-the-counter medications may work for some of these eye lumps, don't wait if yours doesn't heal in a week. Your eye doctor carefully examines the stye and decides if stye removal is the right procedure. The surgical procedure is a quick, safe outpatient surgery with minimal risks. Your eye doctor at VRMNY uses advanced tools for diagnosis and treatment, which increases the success rate for your stye treatment.

★★★★★
Maintained the quality
I have been seeing Dr. Engelbert for several years. He is smart, compassionate, and skilled. He has maintained the quality of my vision, and I consider myself extremely lucky to have been referred to him for my care.I recommend him without reservation.
DAVID D.

Google
What's Involved in the
Stye Surgery Procedure?
The goal of stye surgery is to remove the material in the lump that's formed in your eyelid. By doing so, your eye doctor eases the pain and discomfort associated with a stye. This outpatient procedure takes place at your eye doctor's office and doesn't take that long. While it's a simple procedure, it has a huge impact on your quality of life. The procedure removes the unsightly lump and prevents a disruption in your vision. The main steps in the stye removal include:
Consultation and diagnosis. During your consultation, your ophthalmologist examines your stye and makes a diagnosis. Then your eye doctor discusses what you've tried already and what may come next: the stye removal procedure.
Preparation. Before the procedure, you are made comfortable on the doctor's chair where the stye removal takes place. Before the procedure, your doctor administers local anesthesia on your eye and eyelids, usually in the form of numbing eye drops.
Draining the stye. In most cases, the stye contains pus that your eye doctor drains, often through small incisions. Your doctor uses an advanced surgical clamp, which allows easy access to the lump.
Stye removal. Once the stye has been drained, your ophthalmologist uses a curette to scrape away the material in the stye. The procedure continues until there's nothing left to scrape away. Your eye doctor may cut away any other tissue in the lump before applying pressure on the site to prevent bleeding. You may need a biopsy to check for any serious disease in the lump, such as cancer. Sebaceous carcinoma is one of the rarest types of eye cancer.
Any eye procedure requires advanced knowledge and expertise. The eye doctors at VRMNY have years of experience treating eye conditions. They've actually done some of the latest research and taught at prestigious institutions. Your NYC eye doctor has the tools to carry out safe, successful eye surgery.
What Can I Expect
During My Recovery from Stye Surgery?
You may experience some pain and soreness from your eyelid, but your discomfort subsides within a few days. For the most effective recovery, follow the post-stye surgery care instructions your doctor provides. Some of the post-operative care steps include:
Apply a cold compress to your eye for the first 48 hours.
After the first two days, use warm compresses several times a day.
Use the pain medication prescribed unless your doctor agrees that over-the-counter painkillers are acceptable.
Use the antibiotic eye drops prescribed to prevent infection.
Don't wear contact lenses for a week after the surgery.
Keep the eyelid clean with warm water and soap.
Resume daily activities after you recover completely.
Full recovery takes about a week. If you notice any complications, consult your doctor. If you had multiple styes removed, you may need stronger antibiotics to reduce the risk of disease and infection. This is a simple, safe procedure, but trust a qualified ophthalmologist to do it right. Contact an experienced eye specialist at VRMNY. You can get stye removal from a top-rated eye doctor in the privacy of a professional eye clinic at one of three locations in New York City: Manhattan, Brooklyn and Westchester.
Updated on Mar 1, 2022 by Michael J. Cooney, MD, MBA (Ophthalmologist/Retina Specialist)