Treatment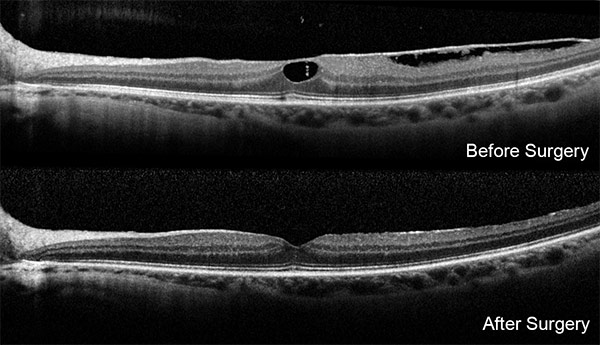 If you are not that bothered by the decrease in vision or the distortion, then surgery for macular pucker is usually not indicated. We generally don't want to operate on patients unless they are unhappy with their vision. If your vision is decreased or distorted enough that you are not happy or you can't perform occupational tasks, macular pucker surgery may be indicated.
Is macular pucker surgery necessary?
In many instances, macular pucker treatment is unnecessary because the distortion to vision is minimal. When vision loss is more pronounced, however, surgical repair may be necessary. Minimally invasive vitrectomy surgery is performed by doctors at VRM to remove the vitreous gel and then the doctors peel off the scar tissue. The scar tissue can be surprisingly tough skin on the surface of the macula. The underlying retina is often molded by the chronic distortion caused by the scar tissue and to allow the retina to relax to a greater extent an additional layer, the internal limiting membrane may be peeled as well.
Generally the patient uses eye drops for 2 to 3 weeks after surgery. Complications of the macular pucker eye surgery include an approximately 1% chance of causing a retinal tear or detachment that would require additional surgery to repair.
There is about a 1 in 2,000 to 3,000 chance of getting an infection in the eye, which would require antibiotics for treatment. Vitrectomy surgery causes cataracts to form sooner in life, probably because of increased oxygen delivery to the lens. The outside part of the eye looks normal within a couple of weeks but the vision may take months to reach its final level. The longer the scar tissue was present before surgery the longer it takes to reach the final improved acuity.
Most patients with macular pucker surgery improve by about 3 lines of visual acuity. A more complete description of what to expect, the possible complications, and how to use medications after surgery will be related to you by your retina doctors at VRM.
The doctors at VRM have a long history of developing the latest techniques in imaging macular pucker and their associated damage and surgery of macular pucker and related conditions. The scientific articles concerning the developments by VRM doctors can be found at the website of the National Library of Medicine.
Why Choose Vitreous Retina Macula Consultants of New York?
Top-Quality Eye Care. Our New York ophthalmologists and eye doctors publish more in the foremost peer-reviewed journals about macular pucker treatments than any other private or academic group in the United States. Many current concepts in retinal disease and some of the best treatments recognized worldwide were invented at VRMNY ophthalmology center.
Groundbreaking Research. Our renowned retinal specialists lecture worldwide on retinal vascular disease and serve as academic leaders in the field as the most published group in foremost peer-reviewed journals in the U.S.
Reputation. Our reputation for outstanding eye care gives you access to the latest treatments and technologies and the best eye doctors to treat macular pucker. Our specialists authored numerous peer-reviewed journal articles and book chapters and has presented at scientific meetings nationally and internationally, and have been selected as Castle Connolly Top Doctors, New York Super Doctors, the prestigious group of New York Magazine Best Doctors.