Laser Surgeries
No longer a new trend, laser eye surgeries have been performed since the 1960s. Of course, today's medical-grade laser devices are safer and easy to manage. The eye surgeons at Vitreous Retina Macula Consultants of New York are trained and experienced in the many different kinds of laser treatment for eyes. These ophthalmologists, the best laser eye surgery doctors you can find, first come to an accurate diagnosis before deciding if laser eye surgery is the most appropriate treatment for you. Call the practice today to discover if a laser surgery for your eyes can improve your vision.
What Is Laser Surgery for the Eye?
Light amplification by the stimulated emission of radiation — which is what the acronym LASER stands for — is one of the most effective, most advanced techniques in eye treatment. Eye doctors today use laser surgery to treat a wide range of eye disorders and diseases. Through the use of a medically safe light beam, your eye doctor can perform different procedures and correct or protect your vision.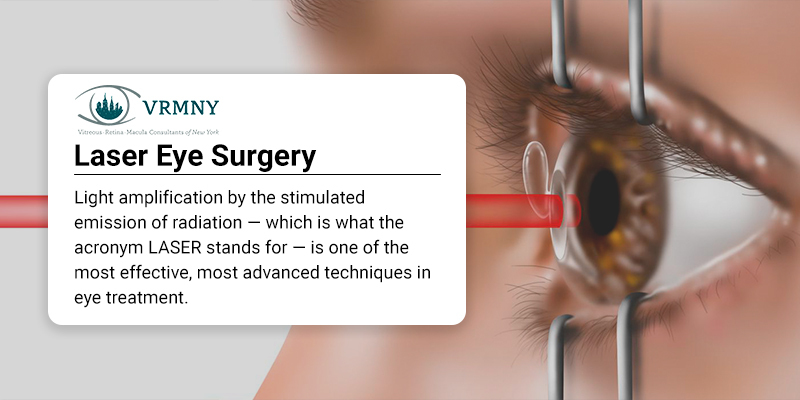 Since the 1960s, laser technology has emerged as the gold standard in eye treatment. Over the years, laser modifications have permitted more precise eye treatments through minimally invasive, in-office, outpatient procedures. Today, the best laser eye doctors treat the most complex eye conditions aided by state-of-the-art laser devices, eliminating the need to use a scalpel. Additionally, recovery from laser treatment for your eyes is faster.
Whatever your eye problem, the top ophthalmologists or retina specialists at Vitreous Retina Macula Consultants of New York (VRMNY) accurately diagnose your condition and then treat it through a range of procedures, including laser surgeries. The eye specialists at VRMNY leverage advanced laser procedures for the most successful treatment outcomes.
★★★★★
The staff is courteous and professional
Considering the importance of vision and the numerous serious diseases which pose a life changing threat, there is no room for error. The finest eye specialists in the country are found at VRMCNY. I have been a patient there for decades and have been seen by several doctors. They define the meaning of expert and consult with one another to ensure accuracy. The office is spotless. The staff is courteous and professional. The visits are usually time consuming due to the necessity of imaging and a preliminary exam with a technician before seeing the specialist. I consider myself fortunate and am very grateful to be a patient there.
RENEE B.

Google
What Conditions Does Laser Eye Surgery Treat?
Poor eyesight from a medical condition makes it difficult to do your work or even complete normal daily activities. Your eyes are vulnerable to a wide range of diseases, injuries and complications. That's why you need the best laser eye doctors in New York City. They use the latest laser technology to treat such eye conditions as:
Myopia or nearsightedness. If you have a refractive error that causes vision problems, such as an inability to see faraway objects clearly, laser surgery corrects the problem. Through LASIK surgery and other procedures, your doctor adjusts your cornea to improve your nearsightedness.
Hyperopia or farsightedness. If you can see objects farther away clearly, but those near you are blurry, perhaps laser eyes treatment is for you. The surgery corrects the shape of your cornea to ensure light focuses properly on your retina and not behind it, the issue behind hyperopia.
Astigmatism. If your vision gets blurry when you look at nearby objects and those at a distance, it's possible you need laser eye surgery for astigmatism. This refractive error occurs if you have an abnormally-shaped cornea or lens. Through laser surgery, your eye doctor corrects the issue, leading to clearer vision.
Macular degeneration. Age-related macular degeneration causes blurred vision because of a damaged macula. The macula enables sharp, clear, detailed vision. When it's damaged; it can threaten your vision permanently. Advanced laser therapy may be able to treat the condition.
The best laser eye surgery doctors treat underlying eye conditions with laser technology. These ophthalmologists have the specialized skills, training and equipment to treat your vision problems. At VRMNY, internationally-renowned eye doctors take care of you.
What Types of Eye Laser Surgery Are Available?
Medical researchers, including those on staff at VRMNY, continue to refine laser eye treatments for the best results. Your eye doctor can choose from a range of laser surgeries, depending on your particular condition. Your eye doctor tailors the laser procedure to suit you. The types of laser eye surgery include:
VRMNY has three locations in Manhattan, Westchester and Brooklyn. Each office is outfitted with state-of-the-art medical laser technology. Your ophthalmologist has experience performing these laser surgeries. Contact us to find a top laser eye surgeon today for vision-saving laser surgery.